EDUCATION
We help churches and other organizations adopt schools to remove the barriers that disrupt a quality education for Chicago students. We envision a thriving school culture and rich academic experience at all Chicago-land schools.
Subscribe
Contact Us
If your church or organization is adopting a school, we welcome you to join our Love Your School Village of Support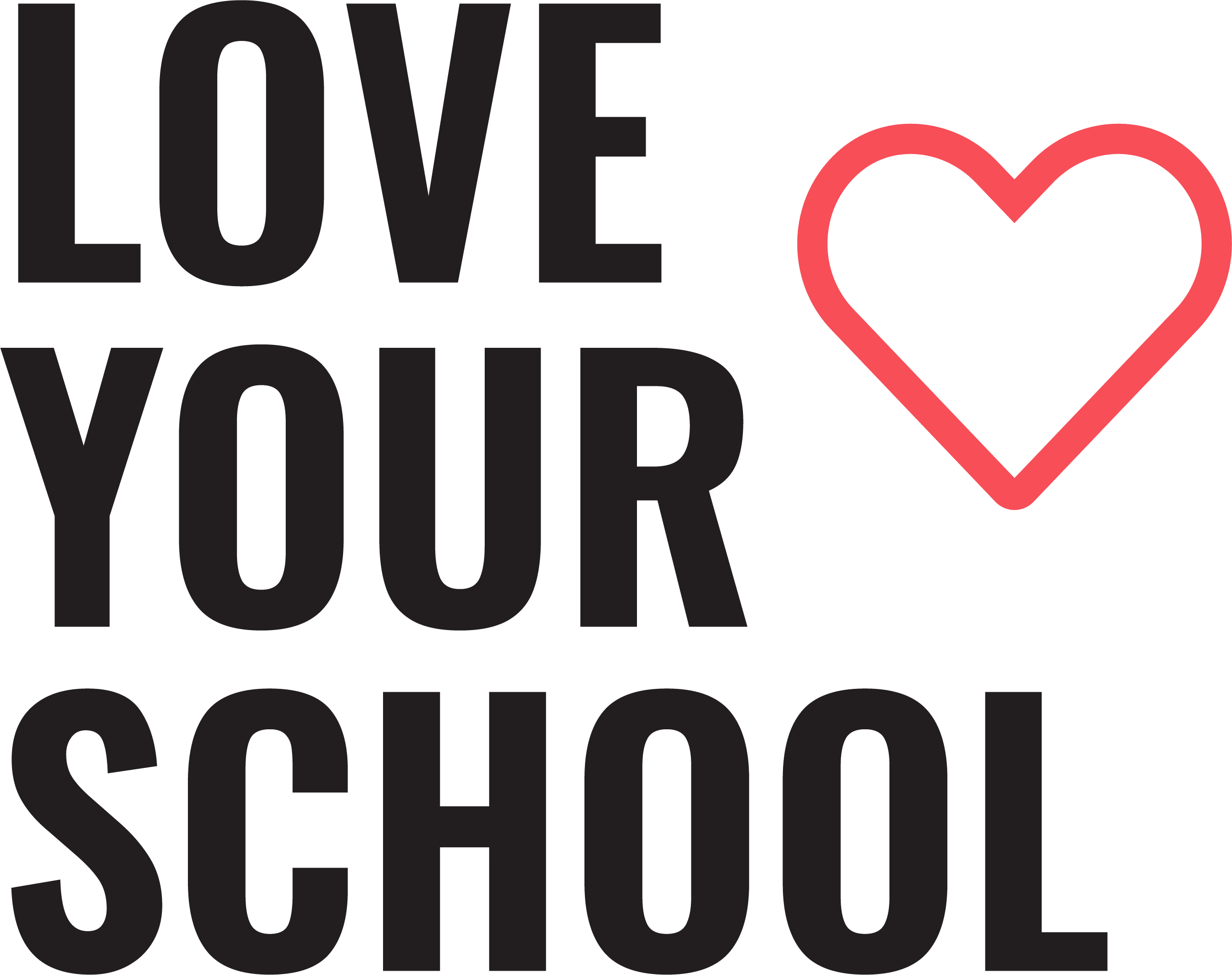 Take Action to adopt your local school and join the Love Your School initiative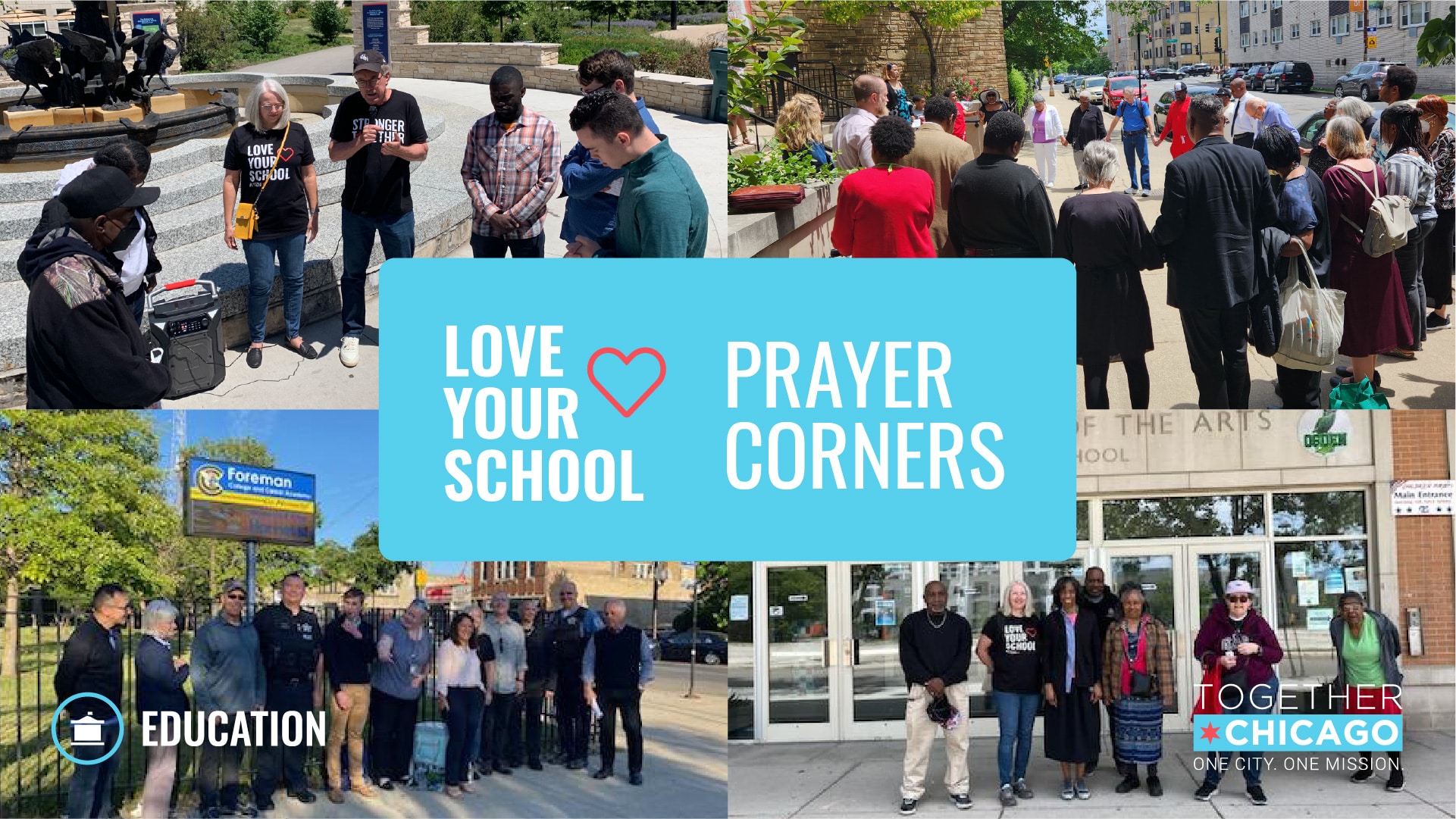 Pray faithfully for and at your local school
Support children and families in your community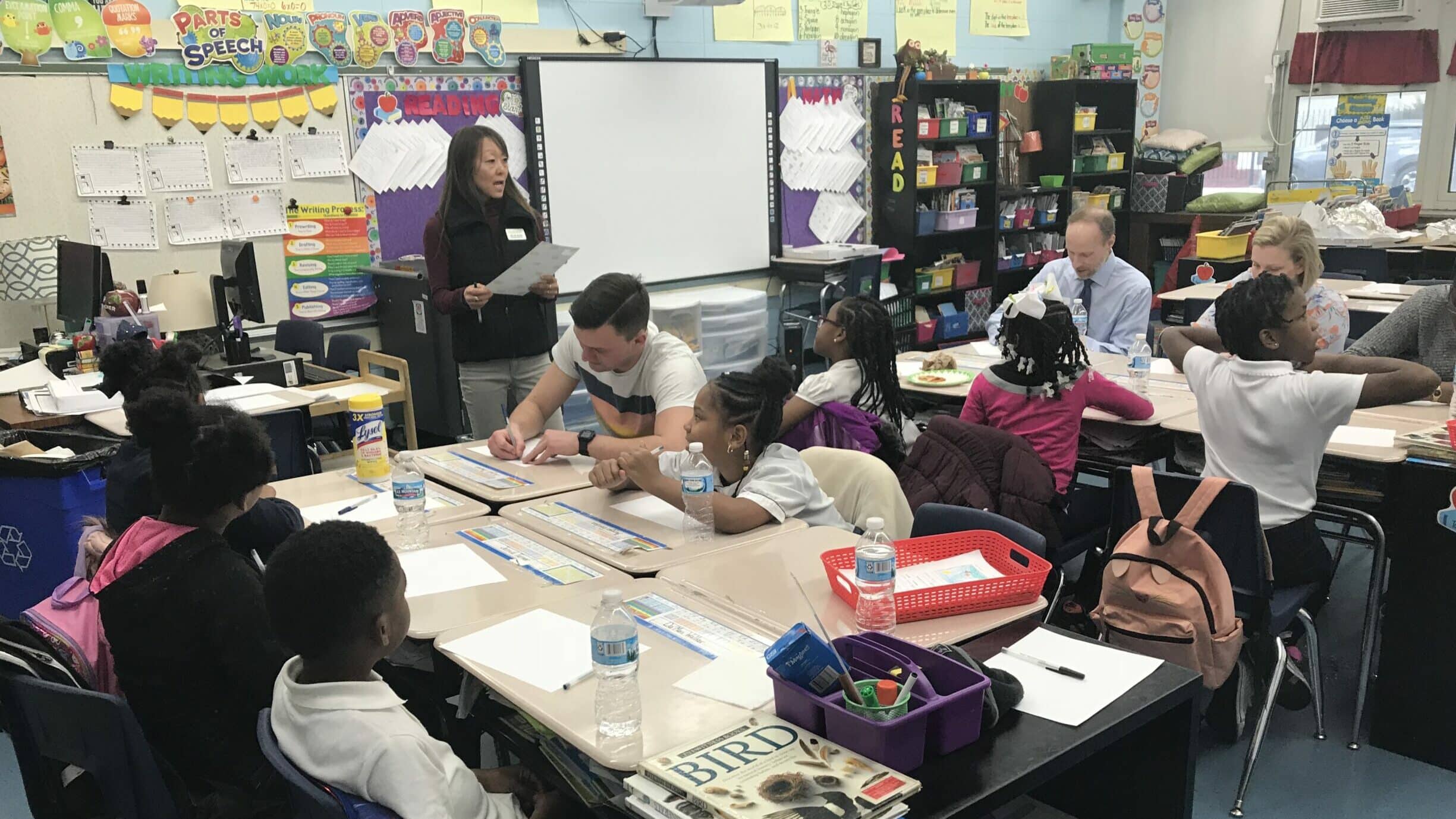 Mentor, tutor, or support an enrichment program
Register for our next Village of Support meeting and get onboarding assistance.
Work to address the top 1-3 needs of your local school
Register for our next Village of Support meeting and get onboarding assistance.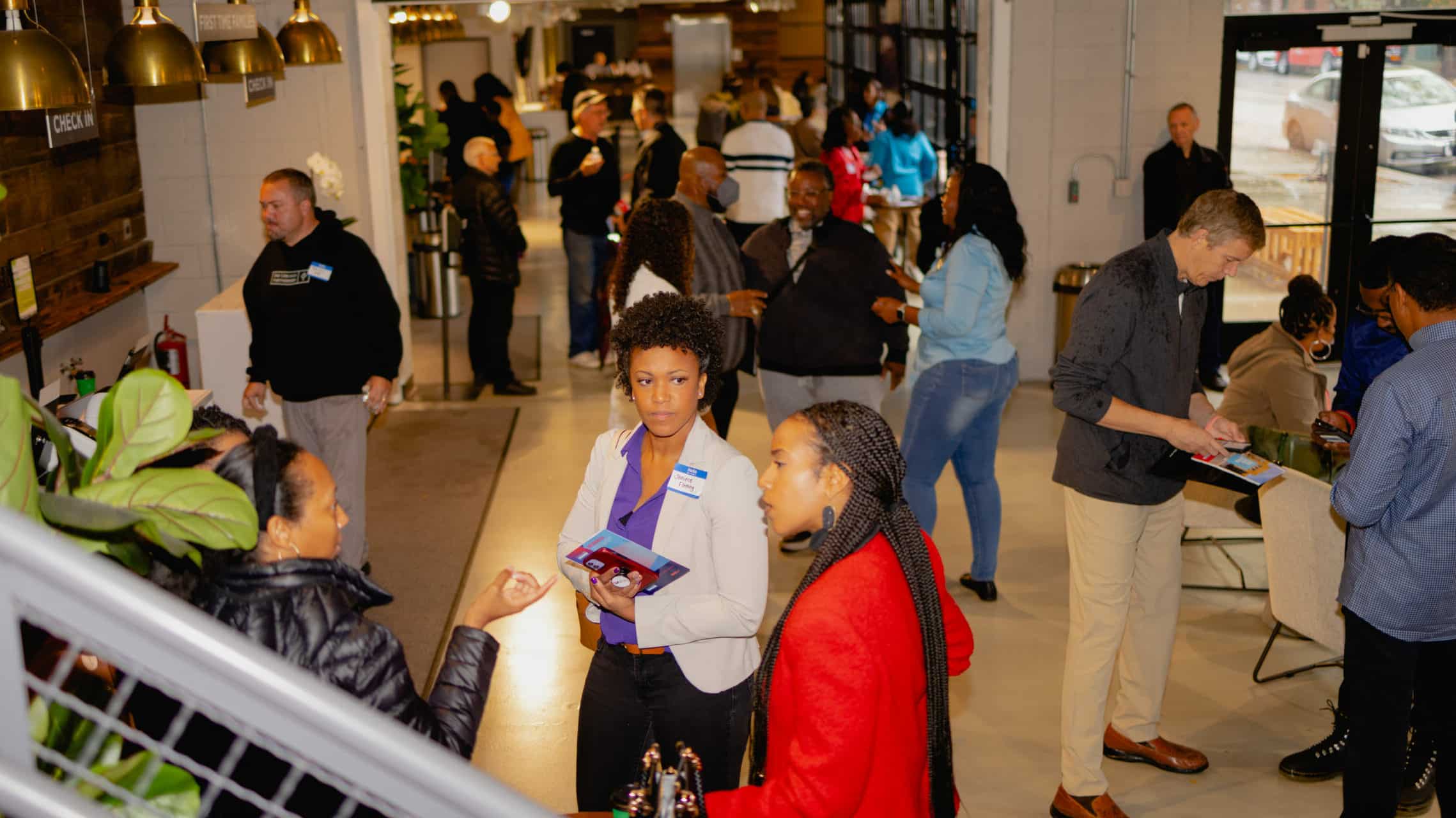 If you are already supporting a school, join our Village of Support
We are stronger together!
Brown Elementary School
54 N Hermitage Ave, Chicago, IL, United States
Love Your School partners will meet to plan for School Year 23-24 impact.
Park Community Church - Near North
1001 N Crosby St, Chicago, IL, United States
For this year's Love Your School Friendraiser, the slogan is "Impact that Lasts." We will highlight partnerships taking place across the city. These partnerships have the purpose of enhancing school culture and bringing about community transformation. We will start with intentional fellowship and food, we will present exhilarating examples of "Impact the Lasts," and we […]
ABOUT CAMPAIGN-NO MORE VIOLENCE As a subsidiary of the Brilliance and Excellence Movement, the "No...
read more
Our education work is taking place in 100 schools
Over 100 tutors and mentors are involved
Over 3,000 students impacted through our programs
From CPS CEO Pedro Martinez:
"Participating in the Together Chicago panel energized me. The collaboration I saw between school leaders, faith-based organizations, and other community partners made me feel confident that our students will be able to reach their full potential through support both from CPS and their broader communities. I am excited to see the Together Chicago pilot sites expand to ensure that more students, especially on the South and West Sides, receive the mentorship and guidance they need to excel academically and develop into the future leaders of our city."
Volunteer Mentor:
"Since I've been involved in mentoring at a local school, I've learned to be more patient and understanding."
Volunteer Tutor:
"Although these kids are so young, they deal with many difficulties outside of school. Sometimes I feel like I don't have the right things to say back to them, but I believe that giving them that safe space to just release their thoughts and refocus their attention is beneficial."
From Amy Governale of North Park University:
"The Friendraiser was a great opportunity to see how Together Chicago's Education initiatives build villages of care around schools. The organization of the event around transformative programs, comprehensive wrap around services, and big, public wins, solidified the work and progress Together Chicago is accomplishing. I made a lot of great connections with groups who are just as committed to supporting the holistic well-being of Chicago's students. I'm so proud to be involved with Together Chicago and look forward to our continued work."
Volunteer at Lovett ES:
"I truly appreciate the insight I have been able to gain from communicating and establishing relationships with all the students I engage with. The interactions and topics of discussion I have had with the students has checked a lot of my biases and its encouraged me to be a critically and racially/culturally aware individual outside the setting of Lovett as well."
Prayer & Mobilization Coordinator
Kimberly Harshman
Kimberly Harshman did her Pastoral studies at Global University with Assemblies of God. After nearly 20 years in youth and children's ministry, she felt a call on her life to make prayer and intercession her full time occupation. She participated in an internship with International House of Prayer Kansas City (IHOPKC), where she later went on staff as a full time intercessor in the 24/7 Global Prayer Room. As an overflow of that prayer, she worked as the Prayer Coordinator for the anti-human trafficking organization, Exodus Cry. She coordinated global prayer watches for the ending of human trafficking and managed the Human Trafficking Museum. She was also on the team that created the award winning film, Nefarious: Merchant of Souls, a Christ centered documentary, raising awareness on the global sex trade.
Kimberly has traveled abroad to minister to at risk women and to help launch Love Your City Initiatives and Houses of Prayer in India. After traveling to India, she was on layover in Chicago, when she heard the Lord invite her to come and build the House of Prayer in this city. She now works with Chicagoland United in Prayer to mobilize prayer and action events in Chicago. She has joined the Together Chicago team as our Prayer Team Coordinator. She brings with her a passion to see prayer and justice to walk hand in hand for the transformation of our city.
Director of Education Initiatives
Damien Howard
Damien Howard is an educator with 12 years of experience, primarily with Chicago Public Schools. He cares deeply about Urban Education Reform. Damien teaches character development and life skills to help students thrive in all aspects of their lives.  His current work targets schools on the South and West sides of Chicago.
Damien graduated from the University of Illinois (05′) with a degree in Special Education. Damien received his M.Div. from Trinity Evangelical Divinity School (10′). Damien is married to Sharial and Gabrielle is their daughter.
Education Programs Specialist
Dr. Deborah Umrani
Deborah Um'rani is a native Chicagoan. She is the mother of Annisah (an attorney in Washington, D.C.) and Khalil (an investment banker in Atlanta) and the wife of Rashad for 38 years. She served at the University of Illinois as an Adjunct Assistant Professor in the College of Education. For 17 years, she led the pipeline initiatives for the Urban Health Program as the Visiting Director of Undergraduate Programs and Assessment and as the Director of the Early Outreach Program. Dr. Um'rani has designed, implemented and evaluated pipeline initiatives and educational and enrichment programs for underserved youth to prepare them for careers in S.T.E.M. disciplines. Annually, she provided academic and student support services to over 800 students who attend elementary school, high school, college, and graduate and professional degree programs. She has been very successful in supporting a cadre of talented African-American, Latino and Native American students and increasing their persistence in S.T.E.M. disciplines and careers in the health sciences. Over the years, Um'rani has expanded the minds and increased the options, while broadening the horizons of Chicago residents. She has been an incredible nexus for providing curricular options and co-curricular research, internship and volunteer opportunities throughout Cook County.